Swing-away Security ADLO Bars
Swing-away security bars with multilock mechanism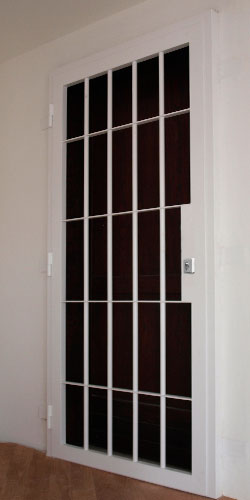 Much higher resistance against break-ins. Massive vertical steel bars without any interruption, solid strip steel with exactly milled openings, security safe-style hinges, all areas most commonly attacked are reinforced.
Unique protection against sawing. Double massive steel bars: each steel bar has an inner rotating bar, which is impossible to saw through.
Much higher resistance against rust; long life and colorfastness. Colours will stay permanent thanks to a 4-degree layer protection: galvanizing, phosphate layer, powdered painting, and firing in the oven at high temperature.
Unique appearance thanks to better anchoring – no drilling into the facade and subsequent damage. Installation into the security ADLO door/window frame that is filled with reinforced concrete. Many options for the profile shape and depth of the frame in order to accomodate it to the construction hole.
Locking with a multilock Resist BN in 9 secure points, including the dead bolt into the floor. 4 points on the hinge side thoroughly protect the grille during any attack, even an effort to saw the hinges off. The entire multilock mechanism is protected by the steel bar construction. 4 year warranty.
Option of chosing a cylinder type and security hardware-fittings. Option of one key locking, for another grille or security door ADLO.

Swing-away bars with padlocks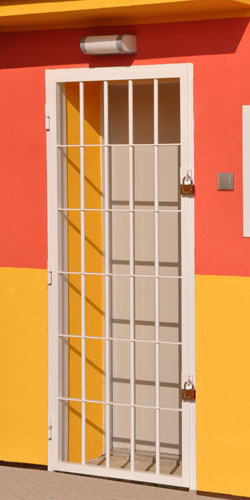 Much higher resistance against break-ins. Masívne oceľové tyče po celej výške bez prerušenia, pevná oceľová pásovina s presne frézovanými otvormi, bezpečnostné trezorové pánty, zosilnenia vo všetkých miestach najčastejšieho napadnutia.
Unique protection against sawing. Double massive steel bars: each steel bar has an inner rotating bar, which is impossible to saw through
Much higher resistance against rust; long life and colourfastness. Colours will stay permanent thanks to a 4-degree layer protection: galvanizing, phosphate layer, powdered painting, and firing in the oven at high temperature.
Unique appearance thanks to better anchoring – no drilling into the facade and subsequent damage. Installation into the security ADLO door/window frame that is filled with reinforced concrete. Many options for the profile shape and depth of the frame in order to accomodate it to the construction hole.
4 points on the hinge side thoroughly protect the grille during any attack, even an effort to saw the hinges off.
2 pc padlocks in your choice of 3 different types
Option of having one key for multiple locks
You may choose an option where you cannot open the bars, we offer also fixed security ADLO bars